Around 5 years ago, Paramount Pictures released The Best of I Love Lucy DVD with 14 top episodes of the series. Most of them coincide with IMDb ratings except but 4, so I'm going to go over the fan rated eps first and follow up with the DVD stragglers.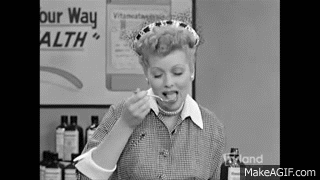 #1 Lucy Does a Commercial. (S1E30)
I don't think anyone is surprised to see this top the list. Lucy gets accidentally drunk and recites a hilarious monologue on the health elixor Vitameatavegamin. Some people cite this as Ball's fav episode but others say the perfectionist actor hated the complicated speech.
#2. Hollywood at Last  (S4E16)
AKA L.A. at Last. To be honest, there's aren't a lot of 'top rated' episodes that coincide with my personal favs but this one does. I adore this episode and can't wait to delve further into it. Ethel cutting Lucy's spaghetti with nail scissors, William Holden getting hit in the face with that cake. setting her nose on fire and dunking it in her coffee. It's brilliant and Ball at her finest.
#3 Job Switching (S2E1)
This is the other of course on the list. Lucy and Ethel stuffing chocolate in their mouths, hats, down their blouses may be the most iconic scene in the whole series.
#4 The Great Train Robbery (S5E5)
Lucy convinced herself that their neighbor on the train back to NY is a jewel thief and has to stop the train. I think Ethel, Fred and the conductor (played by friend of the show Frank Nelson) make this episode really worth the watch.
#5 Lucy's Italian Movie(S5E23)
Yup! Lucy tries her hand at wine making and gets into a ridiculous brawl with fellow grape stomper. One of the episodes it really would have been worth to see in color.
#6 The Freezer (s1E29)
Season one is truly the best season. There are a bunch of S1 episodes that I still laugh out loud to that get left off the list but this one earns it's spot. Everyone will recognize Lucy with her frozen tears and eyelashes.
#7 Lucy and John Wayne (S5E2)
Oh boy was I happy to see this one rated so high. My father is the biggest John Wayne fan and he recorded this and the previous episode Lucy visit's Grauman's on VHS because of Wayne's appearance and I watched them over and over again. Lucy tries to steal the ultimate souvenir and the Duke is a total peach about the whole thing.
#8 Lucy Thinks Ricky is trying to Murder Her (S1E4)
The very first filmed episode makes the list! Lucy quotes Jess Oppenheimer's favorite line from the whole show "Ever since we said 'I do,' there are so many things we don't."
#9 The Girls Want to Go to a Nightclub (S1E1)
And the first ever aired episode! I really do love the first season.
#10 Lucy and Superman (S6E13)
Lucy is the best mom ever when she gets Superman to come to Little Ricky's birthday party but in case he's a no show, she dresses up like him and ends up locked out on the window ledge.