Aired Dec 24, 1951
Plot: Lucy finds a letter from Fort Dix and assumes the boys have been drafted, causing the girls to cry and knit. The boys see the girls cry and knit and assumes they're pregnant.
Let's Get Into It: Ethel brings Lucy her mail and sees Ricky got a letter from the War Dept telling him to report to Fort Dix. They immediately assume he's been drafted (the Korean War was going on at this time.) To take their minds of things, they go hat shopping, cuz what else are you gonna do?
Ricky comes in with Fred and sees the letter, explaining that he's going to perform a show there for the troops. Arnaz in real life was part of the USO in 1943. Fred has an old war-style vaudeville act that he thinks would be great and so Ricky gets him in on the act. But he warns not to tell Ethel who will tell Lucy who will want to be in the show.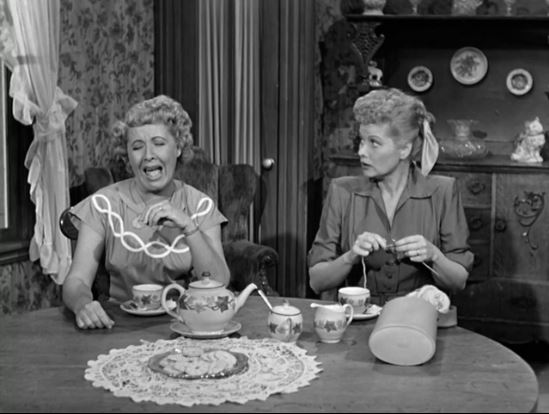 Is this the first time we see the Mertzes apartment? The girls are crying about the boys going off to war. Ethel caught Fred drilling/rehearsing with Ricky and thinks he enlisted.  She honestly thinks her husband signed up to go to war and didn't tell his wife?? Instead of asking her husband what the H-E double hockey sticks, she cries and knits him socks. Meanwhile the boys see their wives acting this way and think they must (both) be pregnant. So, as much as the Mertzes fight, they do… how do I put this politely… do the dirty? I mean, Fred knows how babies are made, right? They decide to throw a surprise baby shower while the girls plan to throw a surprise 'you're going off to war' party.
Now, this party: when they invite their friends over, what exactly to they tell them? Do the boys and girls call the same guests, so the party goers know it's 2 parties in 1 or did they happen to have 2 separate guest lists? And did Ricky and Fred tell them it's a baby shower so now all their friends think they're pregnant? Did Lucy and Ethel tell them the boys are reporting to Fort Dix and have to come back with a big old "never mind?"  Who knows how the invitations read, but friends show up and are unceremoniously hidden in the closet.
The boys eventually mime to the girls they think they're about to be parents and you'll hear Ricky hum a few bars of "There's a Brand New Baby at Our House."  Well the truth comes out for both sides and they all laugh at their mix up until they FINALLY remember their friends they shoved in the closet that now are so contorted they have to be peeled apart!
Notes:
Desi, along with Eddie Maxwell, wrote the song "There's a Brand New Baby at Our House" when baby Lucie was born. Maxwell's wife is Eve Whitney, The Charm School teacher.
Since this aired on Christmas Eve, there's a little Christmas tag scene at the end of the episode. They'll reuse this scene for future Christmases and even reuse the premise for the Christmas special they filmed in a later season. Here, the gang is all dressed up in Santa suits and decorating the tree. Ricky sings for them "Cascabeles" which Ethel recognizes as Jingle Bells and they all sing. Ricky knows the English words—after all it's his and Lucy's song! They dance around the Christmas tree and when they come back around suddenly there's 5 Santas. They pull off each other's beards but 1 guy's doesn't come off. The Real Santa then disappears! The four turn to the camera and puzzled, wishing everyone a Merry Christmas.
Familiar Faces: 
Hazel Pierce, Ball's stand in, is a party goer.